This is the 19th edition of the weekly Retrontario newsletter. Subscribe now to start getting it sent directly to your inbox:
November 12, 1979 was when the final 15-minute original episode of TVOntario's Parlez-moi aired, even though it continued on TV and in classrooms into the early 1990s.
It was hosted by Marc Favreau as himself—but also as the popular homeless clown Sol, a handy deconstructionist of Quebecois French. Words would be introduced in a comedy sketch that appeared twice: with and without the translations from Favreau.
Parlez-moi also followed in the '70s TVO tradition of a groovy electronic theme song:
"And now, here is the complete sketch again," was Favreau's catch phrase to introduce the uninterrupted Sol, a character that was already big in Quebec. (Favreau died in Montreal on December 17, 2005, at age 76.)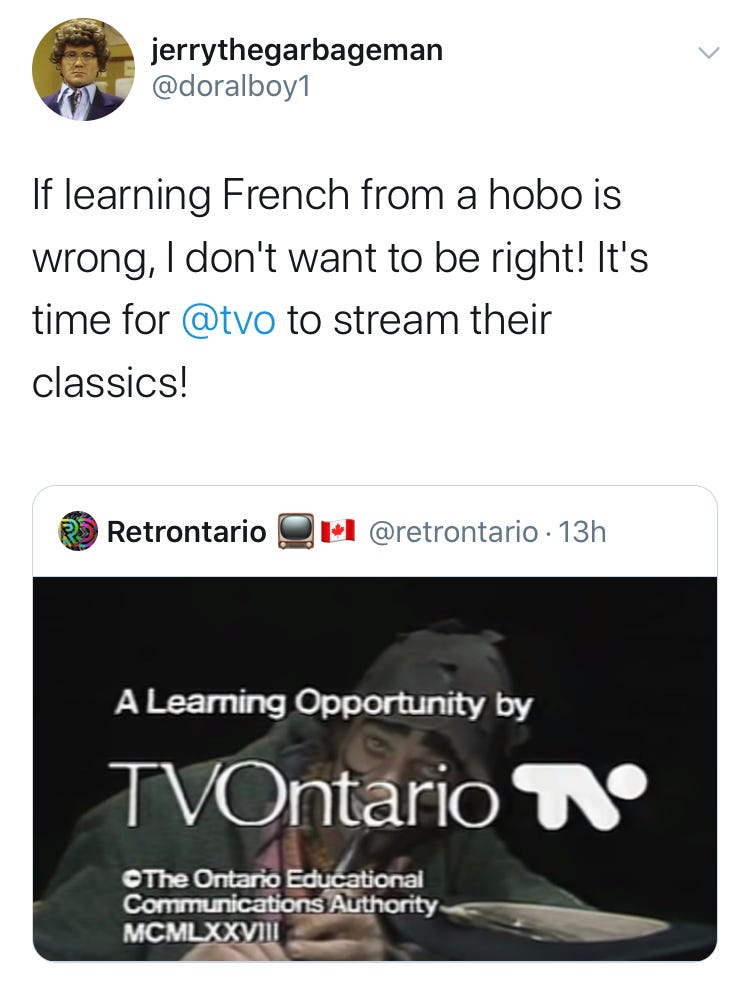 ---
Dini, queen of meme
After building her personal brand at Citytv, on CityPulse, CityLine and CityWide, pioneering broadcaster Dini Petty left for CFTO, where she hosted The Dini Petty Show from 1989 until 1999—plus some ads for Pears Shampoo. But who'd know back then that her daytime TV klatch was planting some memes that would define Instagram circa 2019?
---
Spumante's Sherry Christmas
Spumante Bambino became a common Holiday tipple in 1979, thanks to a spot featuring the striking Sherry Miller, who'd also been a host on Polka Dot Door:
Miller went on to appear in shows from Queer As Folk to jpod to Schitt's Creek, and was the travelling face of Anacin in the 1980s. ("In Orillia, 77% said yes!")
(Spumante Bambino later got a shout out in Maestro Fresh Wes' 1991 ska-flavoured hit, "Conductin' Thangs.")
---
---
Sounds of the evacuation
November 10, 1979 was the night a derailed CP freight train carrying chemicals forced the largest peace-time evacuation in North America at the time: 200,000 people.
The event inspired Death From Above 1979's "Trainwreck 1979," a radio staple that came out 35 years later. Released much sooner was "Mississauga Evacuation," a long-lost reggae jam from Rupert and the Swingers, recorded at Toronto's Comfort Sound: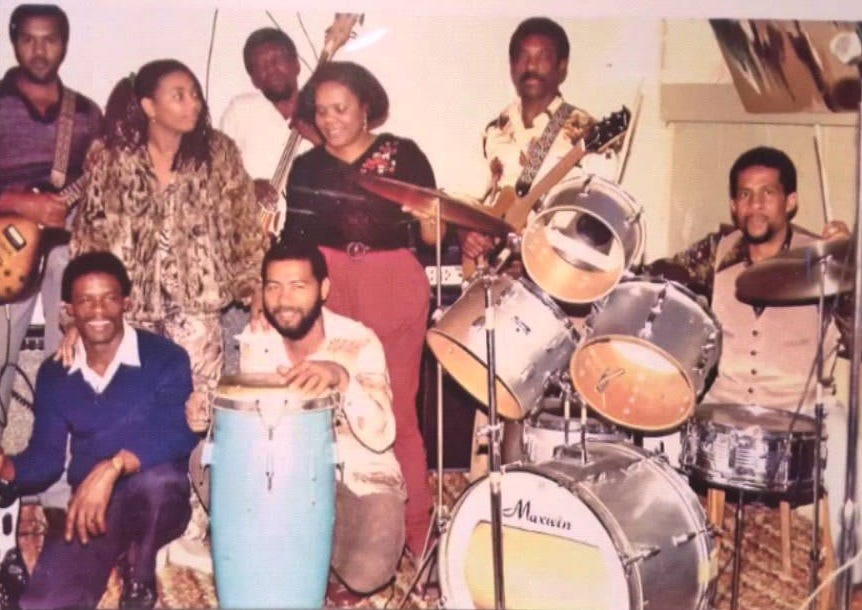 ---
"You are tuned to CFTO-TV channel 9 in Toronto, cable 8"
Hard to believe it's been over 10 years since Dave Devall retired from CFTO-TV, as not only the weatherman but also as the voice of its on-air identity. From IDs to Breaking News bulletins, sign-off, sign-ons, Cartoon Playhouse and Definition, Devall's distinctive drawl voiced them all, with pipes as strong as ever when Retrontario recently met him.
---
Santa's coming, 1987 style
The Toronto Santa Claus Parade returns Sunday, November 17. For the viewers at home, it now airs on CTV, who has been broadcasting it since 2010. CBC originally aired the parade from 1952 until 1981, and Global TV took over in 1984. (CBS also used to incorporate Toronto clips into its American Thanksgiving Day parade coverage.)
Part of Global's coverage involved a prime-time sneak-peek at the floats, usually aired the night before. We recently uncovered the 1987 special, as presented in full below:
---
Cherry's red pill
Don Cherry was fired after four decades with Hockey Night in Canada. Frankly, we're still amazed that he lasted beyond the 1993 VHS-only release, Rock'em Sock'em 5. That one featured him rapping and raving in an abandoned bunker, to the sounds of Chris Sheppard's techno-pop act, BKS:
---
This newsletter will return on November 25. In the meantime, get a friend to subscribe:
Send tips, comments, and other flotsam and jetsam to @retrontario on Twitter, or ed@retrontario.com. More old newsletters you can use are in the archives.