Down the rabbit hole of Yonge and Dundas
More weird local cultural detritus
It's been over 20 years since the expropriations that gradually transformed the Yonge and Dundas intersection into Toronto's current micro-simulacrum of Times Square. But memories of its late-20th century iteration continue to loom large in our collective consciousness.
A recent Reddit thread featuring a 1998 photo of the intersection garnered over 1,600 upvotes, and a torrent of memories involving World's Biggest Jeans Store, Lick's, and the sketchy Jewellery Exchange.
Tip of the iceberg stuff, really, but it also brought other Y&D lore to mind: why is it that no one can conclusively determine what year the notoriously mob-deep Brown Derby Tavern closed, to be replaced by a Mr. Submarine. ("sometime in the '80s?")
---
Short Circuit 2 (1988)
This slapstick-robot comedy sequel, shot in 1987, featured a scene between Michael McKean and Fisher Stevens (in brownface) where the Mr. Submarine is visible:
(The film is mostly set around the Eaton Centre, and later includes a scene where the berserk Johnny 5 robot strews through the World's Biggest Bookstore.)
---
Yonge-Dundas Shopping Mall
After the 1986 closure of the Biltmore Theatre, a fly-by-night flea market took over the space, and remained there at least until the early 1990s. (Thanks to a home video recording, we know it was there in 1992, contemporaneous with HMV at 333 Yonge.)
(Bernie G wear was available exclusively in the downtown core at Yonge-Dundas Shopping Mall.)
---
Auditing Coles
Another benchmark of the Yonge-Dundas strip was Coles Bookstore. A new social media tribute to the Coles chain has already featured many pictures from this location:
Amazingly, after two decades of combing through off-air TV recordings, the only Coles TV spot we ever encountered was a promotion for a book by L. Ron Hubbard:
---
Cinema 2000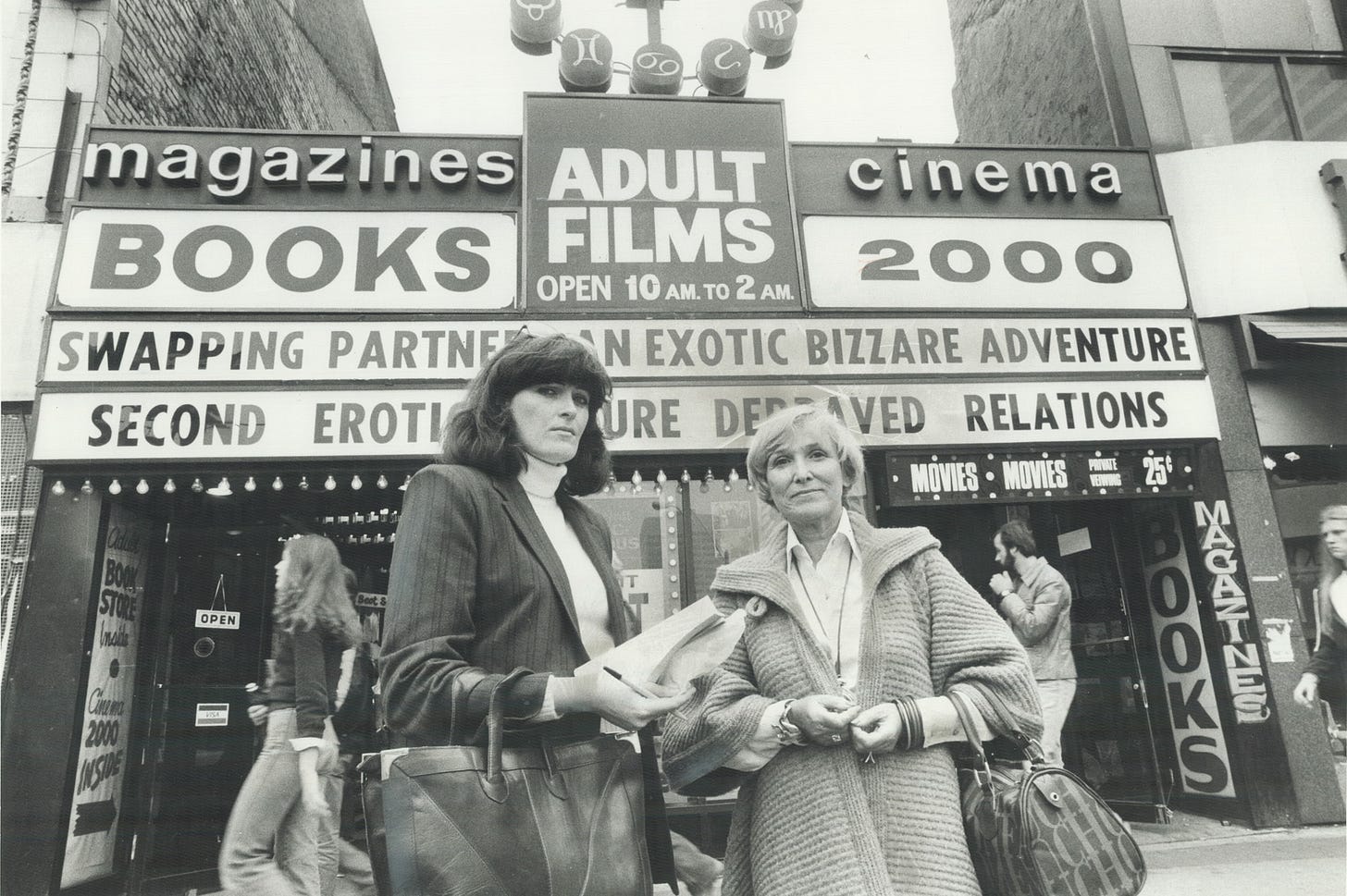 A bit north at 329 Yonge Street was Cinema 2000, the porn theatre/bookstore/pervert hub, which claimed to be North America's first commercial videotape theatre. It stopped movie screenings in 1982—after the Shoeshine Boy murder and ensuing moral panic—but Cinema 2000 continued selling VHS, pulp and magazine erotica. (It later returned to its basement video-booth roots.)
---
Runting HMV
Such was the credibility of HMV when it arrived in 1991 that local paint virtuoso Runt (of Lee's Palace, and the intro to MuchMusic's RapCity) was commissioned to create a design for behind the scaffolding.
Note the scaled-down Cinema 2000 to the immediate right, and the Movie Collector's Store which retailed new Hollywood VHS tapes for bargain prices: $39.99-$59.99!
(The cheap stereo shop that replaced Movie Collector's Store was looted during the 1992 Yonge Street riot.)
---
Majestic Electronic Superstore
Left of HMV was the fondly remembered Majestic, whose abundant TV spots were fronted by a silver fox with a European accent and slick suits, contrasting to the common man look of Bad Boy, The Brick, and Multi-Tech Warehouse. (Majestic abandoned its trademark in 1990, as the stores had become Adventure Electronics.)
---
These are just a few of our favourite memories of the old Yonge-Dundas nexus. Please share some of yours! Do it on Twitter @retrontario, or look for our threads on Facebook. (You can also email your recollections to ed@retrontario.com.)
If you're new to Retrontario, check out the newsletter archives from the past six months, and subscribe to get lots more: