Election recollections
Milk and cookies from Retrontario while you await the results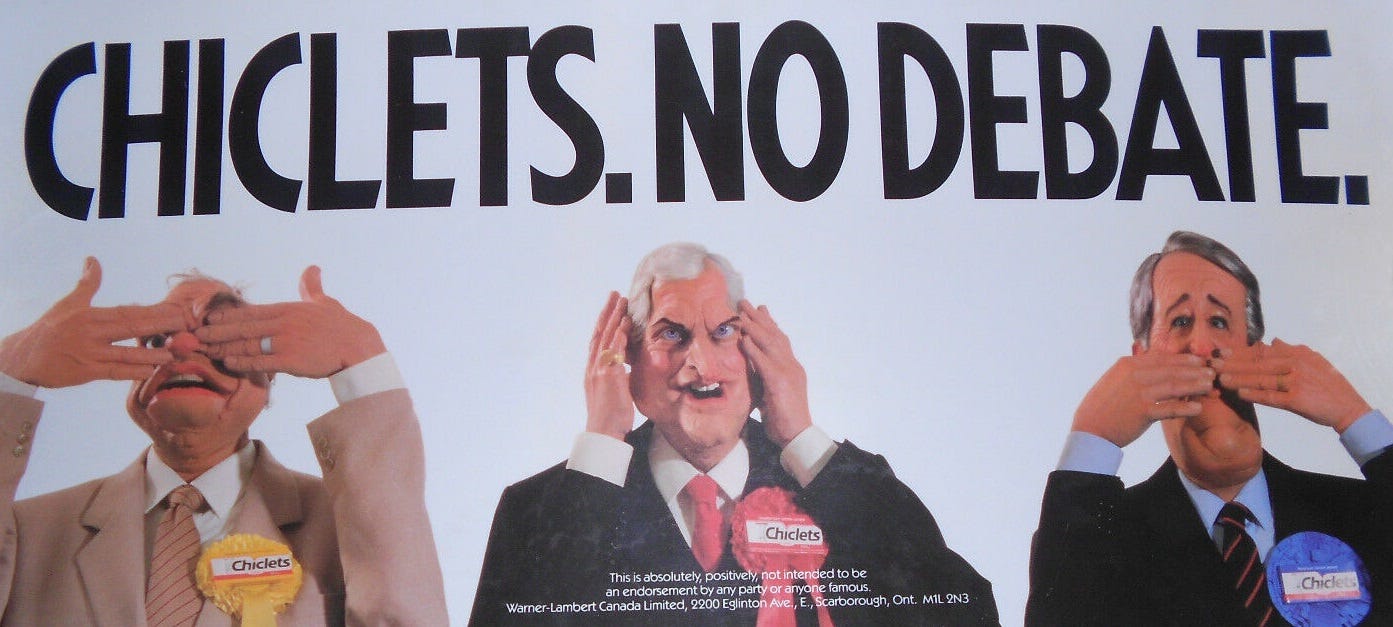 The dearly missed candy-coated chewing gum called Chiclets used surreal puppets from the popular satirical U.K. television series Spitting Image for its 1988 advertising campaign. Chiclets had spots featuring Charles and Diana and Ronald Reagan, who were regular characters on the television series. But the transit ads also featured the three main contenders for prime minister: Ed Broadbent, John Turner and Brian Mulroney.
---
It's the Poleconomy, stupid!
Poleconomy annoyed many Canadian children who received it instead of Monopoly as a gift for Christmas 1983. The board game "reflected the way government, finance and industry interact when private enterprise operates within a system of parliamentary democracy." And it was a crushing bore:
---
Fainting Mounties
It would seem that every prime minister has experienced a fainting Mountie. But none handled it as deftly as Brian Mulroney in 1988, when he stopped at a swearing-in ceremony for new Canadians. CityPulse was there:
---
This is the 17th edition of the 

weekly Retrontario newsletter

. 

If you like it, tell somebody else:
---
Peoplekind of the people
Candidates for higher office strive to be recognized as a "Man of the People," whatever their gender. In modern election radio and TV spots, the title amounts to airbrushed monologues from the candidates.
In elections past, however, it was often all about streeters of supposed "real" people espousing the virtues of particular politicians, such as this 1984 spot for Progressive Conservative leader Brian Mulroney:
"'Cause we're voting PC now!," the jingle of the day, was a call to arms after almost two decades of federal Liberals. (And it worked.)
---
Mad as hell and not gonna take it anymore
In the federal election of 1993, the NDP chose to play the "ANGRY!" card. Their clearly staged streeters involved mad Canadians calling out interim PM Kim Campbell for a variety of transgressions, all shot in glorious neo-realist black-and-white:
This approach didn't pan out (it rarely does) as the NDP, led by Audrey McLaughlin, had their worst showing ever: nine paltry seats.
---
It's time, all right
During that same election, Kim Campbell's comatose TV spots chose to point out her strong and frank ability to get things done. But by using a monotone voiceover, stock footage culled from party meetings, and a few old ladies half-heartedly endorsing her, the messaging tanked—and the PC party wiped out, save for two measly members:
The PCs were due for an electoral beatdown. But electioneering like this was still literally like bringing a pillow to a knife fight.
(More infamously remembered is the 1993 Jean Chrétien attack ad from the Tories, which became newsworthy in the final days of that campaign. It continues to be referenced as a historic low-point to this day—particularly through the punditry of one loyal Chrétien operative, Warren Kinsella.)
---
Voodoo Economics
Following the introduction of a 7 per cent GST on January 1, 1991, Brian Mulroney became so unpopular that you could buy a voodoo doll called the Recession Reminder: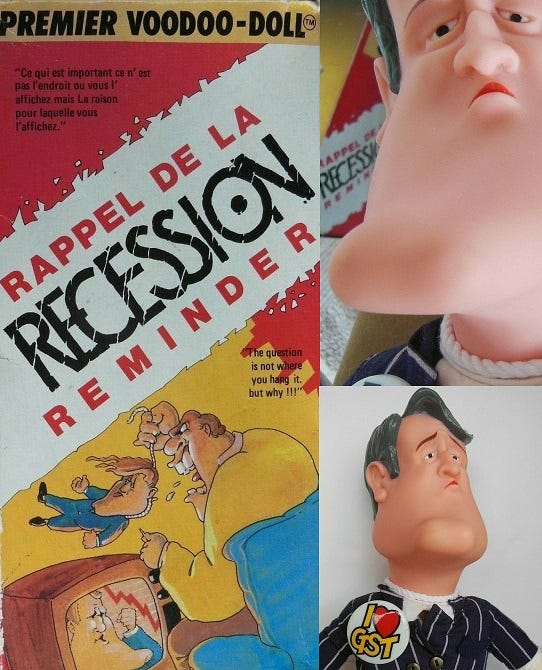 The 11-inch effigy had a noose around its neck, and a puffy plush body ripe for pin-pricking. It's now a highly sought after collectible. (And people think the political culture is cruel now!)
---
The long goodbye
At the 1984 Liberal leadership convention—three-and-a-half months after his resignation walk in the snow—outgoing PM Pierre Trudeau was lionized in speeches, propaganda reels set to pop music, and performances from Ottawa natives Rich Little and Paul Anka.
Trudeau's outgoing speech featured classic reaction shots from son Justin, who was proudly rocking a goofy painter's hat:
---
Trudeau was still lurking
Less than two weeks after he obliterated Liberal leader John Turner at the polls, the freshly minted PM Mulroney was secretly visited by Trudeau—although the down-low meeting was typically spoiled by the media:
(Even though Mulroney had claimed it was his job to save the country after Trudeau spent 15 years destroying it, they looked cordial.)
---

Subscribe to Toronto's News Burrito for daily takes on Canadian media, politics and internet, direct to your inbox at lunchtime. The fun resumes after the election: 
---
Once more with blackface
October 1983 was when the Ontario Provincial Lottery got in hot water for its use of Al Jolson in blackface as part of an animated advertising campaign featuring earlier-century celebrities like Groucho Marx, Mae West and Louis Armstrong:
After multiple complaints, the spot was edited to re-colour Jolson white, before being pulled altogether—giving the province its first bona fide blackface scandal. It was followed with plenty of soul searching in society, which some may not have seen.
---
---
The last word
On the occasion of the 1984 Liberal convention, crusty but benign commentator Dick Smyth used his CityPulse editorial to lay waste to the legacy of Trudeau. Just give it a listen… because his words could still just as easily sum up the current state of the union:
---
Listen to Irv Weinstein
Our good friend in Buffalo was the star of this 1984 WKBW public service announcement. Sure, his references to Rutherford B. Hayes and the electoral college don't apply to us, but the sentiment does. Just get out and vote!
---
Send tips, comments, and other flotsam and jetsam to @retrontario on Twitter, or ed@retrontario.com. More old newsletters you can use are in the archives.