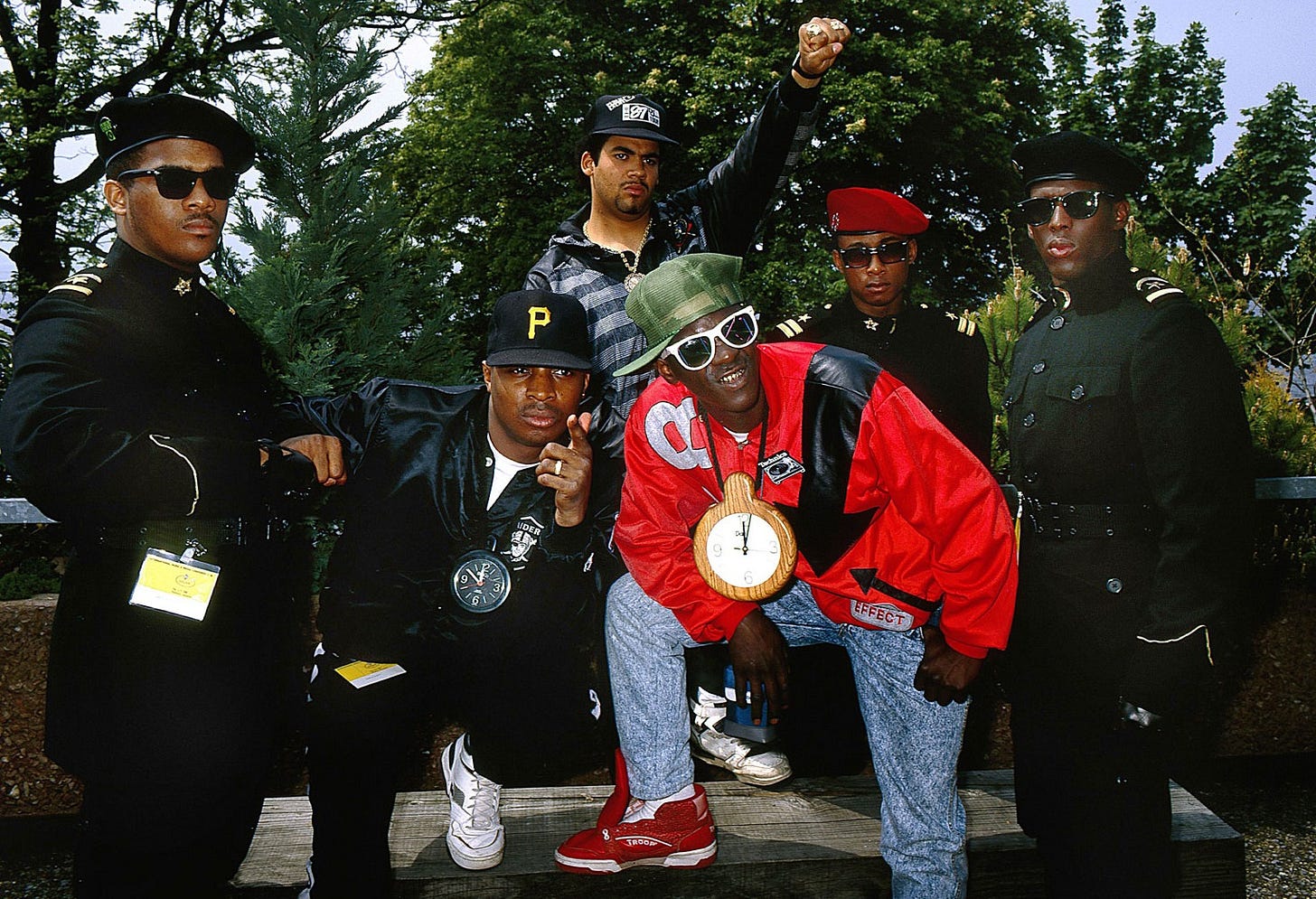 February 1, 1990 was when Canada's 24-hour music channel MuchMusic confirmed it had permanently banned controversial New York rap outfit Public Enemy from the airwaves, due to their alleged anti-Semitism.
The trouble began with a Washington Times interview with PE's minister of information Professor Griff in May 1989: "Jews are responsible for the majority of wickedness that goes on across the globe," he said.
After leaving the group for a while, Griff returned, and the issue was revived over "Welcome to the Terrordome." It was a tease for their third album, Fear of a Black Planet: "Crucifixion ain't no fiction," rapped Chuck D on the track. "So-called chosen frozen."
Toronto Star, February 2, 1990
Thanks to the progressive vision of Much's creator Moses Znaimer, the network broke new ground with Michael Williams and Michelle Geister's revolutionary culture shows Soul in the City and RapCity, the only place on Canadian TV where you could see proper rap and hip-hop videos. So, the issue soon ignited a firestorm of debate over the issues of censorship and double standards.
Toronto Star critic Chris Dafoe argued that Much might as well also ban Guns N' Roses (because of the racist "One in a Million"), Skid Row (thanks to Sebastian Bach's homophobic t-shirt), the Rolling Stones (racist lyrics again) and Bon Jovi (whose manager was a convicted drug smuggler).
Three weeks later, the ban was rescinded. Much couldn't have predicted the blowback through viewer mail and furious Speaker's Corner segments: VJs like Michael Williams publicly disagreed with the stance. In a press release, Much confirmed they would not be airing "Terrordome," but previous PE videos would be allowed in rotation, including the much more incendiary "Fight the Power."
Chuck D got the final word:
I wasn't asking MuchMusic to play my videos. They can play them, or not play them. But if there was people in the city who protested against the ban, I'd like to thank them.
---
---
Exploding without a C
Burton Kramer, designer of the iconic 1974 CBC logo, which is affectionately referred to as an exploding pineapple or exploding pizza, spoke with CBC Radio's Day 6.
When asked for his thoughts on the early 1990s re-touch of his work, modified without permission, Kramer was blunt:
"To say it disgusts me would be a mild reaction."
---
Haunted by the ghost of Zellers
Hudson's Bay Co. has now shut down its clearance centres in Toronto and Ottawa. Marking the occasion was an #RIPZellers thread from @5151photography, which runs the gamut of discount store emotion:
---
Death of Degrassi's dad
Christopher "Kit" Hood, who died on January 20 at age 76, in West Lawrencetown, Nova Scotia, worked as a Disney film editor in his native England before immigrating to Canada. He edited commercials before forming a production company with former teacher Linda Schuyler: Playing With Time drew its name from their first film.
The Kids of Degrassi Street, Degrassi Junior High, Degrassi High and its School's Out film finale amounted to a dozen years of producing and directing for Hood. But his true Degrassi series follow-up has mostly been lost in the shuffle: Degrassi Talks was a documentary series, created in 1992 by Hood, which featured the stars of Degrassi interviewing real teens from across Canada about drugs, sex, bullying, and school.
Its cinema verite style and dark subject material made it unappealing to broadcasters—and so, aside from a few scattered VHS tapes gathering dust in library AV rooms, the series never found an audience. (But it's available to watch on YouTube, of course.)
---
Mac's has left the city
While all of the Toronto convenience stores owned by Couche-Tard were rebranded to Circle K, the Mac's branding conspicuously remained at 78 St. Clair West, near Yonge Street. But that outlier has now closed.
Gone is Hibou the owl, who still winks in Quebec. He took over in 1999 from the original mascot: a cat named MacTavish.
---
Engaged!
CTV Sci-Fi's premiere of Star Trek: Picard on January 23 netted the specialty channel it's highest ratings ever, with 1.1 million tuning in for the return of the beloved character popularized in The Next Generation.
Shame that CTV Sci-Fi hasn't dusted off Citytv's tag, as "Your Federation Station":
Send tips, comments, and other flotsam and jetsam to @retrontario on Twitter, or ed@retrontario.com. More old newsletters you can use are in the archives.