Last call is coming to Wayne Gretzky's
The Great One's legacy of branding
Get more Retrontario in your inbox every Monday by subscribing to this newsletter.
The launch of Wayne Gretzky's Toronto followed a decade of Peak Gretzky—or, to people of a certain age, "Getzky!" When it opened in 1993, he'd already been the face of Canon Camera, Coca-Cola, Domino's Pizza, GWG Jeans and Right Guard, among others.
While he was playing for the villainous L.A. Kings at the time, Gretzky's co-ownership of the Toronto Argonauts (with Bruce McNall and John Candy) helped to cement his local bona fides, which would also explain why this impending closure is rousing nostalgia:
But it's also about more than the loss of another enterprise to condos. Tim Hortons may live forever, but we'll likely never see another chain like Eddie Shack Donuts or John Anderson Hamburgers. Sports stars aren't much into opening eateries anymore.
---
A mouthful for Meat Loaf
Quentin Tarantino's ode to the death of Tinseltown innocence, Once Upon a Time… in Hollywood, is premiering with a sneak peek. Once upon a time in Toronto, though, MuchMusic's Erica Ehm was interviewing Meat Loaf at Future Bakery on Bloor Street, when the resurgent rocker got tongue-tied while trying to pronounce the filmmaker's name:
---
Get tomorrow's media news at 12:36. Toronto's lunchtime tabloid newsletter stays on top of pop culture and digital trends. Sign up to digest 12:36 every weekday:
---
Cats once traumatized Toronto
As debates raged about why the Cats movie trailer was so damned unsettling, we were reminded of a similar feeling of unease when the TV commercials appeared for the stage musical at the Elgin Theatre. While the film version's digital "furring" of actors seems to be the main culprit now, a creepy cat on a UFO was the talk of playgrounds back around 1985:
---
The return of that ghost book
Usborne Publishing will be reprinting their spooky 1977 guide, World of the Unknown: Ghosts, in time for Halloween, after a successful online petition. Toronto libraries each invariably had a well-thumbed copy of this supernatural volume—and a long waiting list. It's unknown if reprints of the other two volumes in this weird series will follow.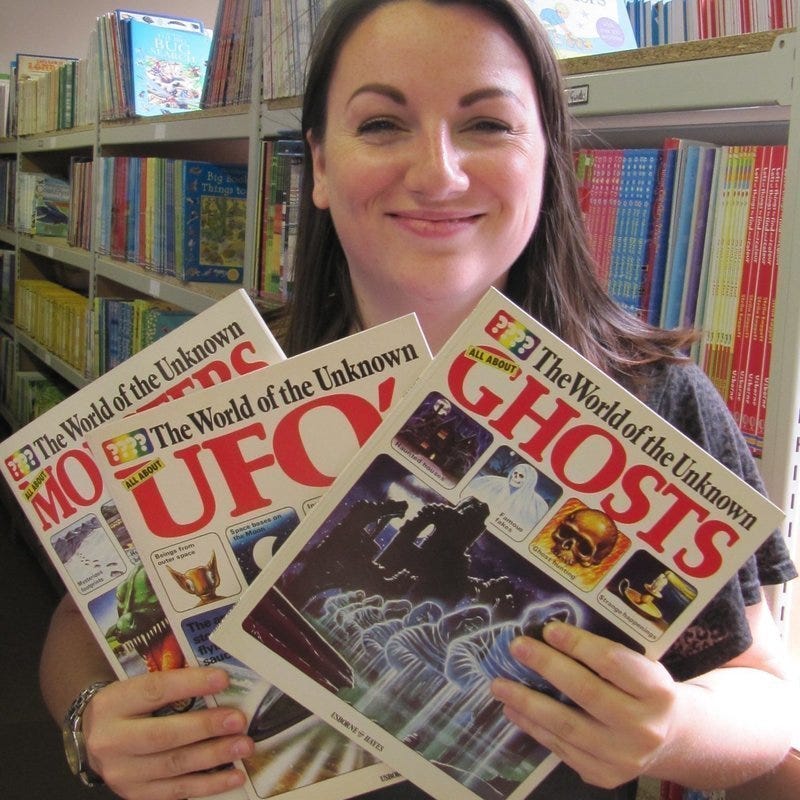 ---
Words, from profane to profound
July 21, 1972 was the day that comedian George Carlin was arrested in Milwaukee after performing his "Seven Words You Can Never Say on Television." Carlin was charged with violating obscenity laws, which kickstarted an international debate on swearing. A decade-and-a-half later, Carlin appeared in a local TV campaign repping the charms of Roger, Rick and Marilyn, on family-friendly CHUM FM:
---
A loop made out of old lemons
Before being taken over by The Weather Network (at the time owned by SNC-Lavalin) in the early-'90s, Rogers Cable channel 23 was a 24-hour loop of Auto Mart—which consisted of used car listings and car care tips, set to a synth-wave wallpaper soundtrack:
---
Streaming of yesterday's heroes
Nostalgists rejoiced when Crave TV uploaded all 130 episodes of Hilarious House of Frightenstein, gloriously positioned on their interface next to to another revived show:
(Predictably, sequences with unlicensed music spun by The Wolfman were edited out.)
---
Want more Retrontario? Help grow this newsletter by forwarding it to a friend. And if you're not getting it sent to you every Monday afternoon, subscribe for yourself:
---
Now brewing in downtown Toronto
Toronto Brews: Two Centuries of Beer Culture is currently in full swing at the Market Gallery, with a barrel-load of local beer ephemera—which includes a reel of classic Canadian beer commercials, curated by Retrontario.