Our seasonal CBC trash panda classic
Yet again, it's nowhere to be found
December 17, 1980 was when The Christmas Raccoons first aired on CBC Television. It was a prelude to the eco-friendly series, which ran from 1985 to 1992 and addressed deforestation, land rights and corporate greed as a Sunday night lead-in to Wonderful World of Disney.
For a low-budget Canadian short, it featured an amazingly eclectic bunch of voices: Rich Little as the narrator, Rita Coolidge as Melissa Raccoon, Bob Dermer as Ralph, Len Carlson as Bert, and Rupert Holmes—whose "Escape (The Piña Colada Song)" was a number-one hit a year earlier—as Dan the Forest Ranger.
The two singers in the cast also provided songs for the soundtrack, and a pre-Octopussy Coolidge's "Lake Freeze" provided a powerfully maudlin wallop for a Christmas TV special:
The Christmas Raccoons was once a perennial festive favourite on CBC, although it sadly hasn't aired in years, and doesn't appear anywhere on the network or digital schedules. Also, it was never released on home video beyond VHS—although a few lucky kids received the coveted vinyl in 1982.
(A reboot of The Raccoons was announced for release this year, even though it hasn't materialized.)
---
Uncle Bobby's groovy Moog
The third annual Retrontario Christmas Crackers special on the Toronto Mike'd podcast included a discussion of the track used to open CFTO's Uncle Bobby Show.
"Spooks in Space" was cribbed from The In Sound from Way Out!, by Moog synthesizer pioneers Jean-Jacques Perrey and Gershon Kingsley:
Three years after Perrey passed away, Kingsley died on December 10, at age 97. Obituaries for the Moog master outlined his most joyful noises: the original version of the instrumental "Popcorn," the theme song for The Joker's Wild, and the stinger from WGBH Boston.
But while the legacy of The In Sound was bolstered by the Beastie Boys, most who can remember the Uncle Bobby theme might assume it was an original composition, which captured the oft-kilter personality of Christmas Crackers fixture, Bobby Ash.
(For the seasonal discussion of Uncle Bobby, Fergie Olver, Dave Devall, and more, check out Toronto Mike'd.)
---
---
Dressing-up Twitter
A recent tweet from @CBC featured a Christmas-themed clip from a later-day episode of Mr. Dressup. The reaction illustrates the enduring popularity of Canada's own Mister Rogers, even if questions pertaining to why the series isn't on CBC Gem were naturally deflected.
---
Yet another Toblerone-less season at Swiss Chalet
Christmas 1999 was the final year that Swiss Chalet offered up a Toblerone as part of their Festive Special, contrary to memories of getting them in the deal in this century:
The triangles were replaced with Lindt chocolate truffles for Christmas 2000 at Chalet—and Toblerones resurfaced at Boston Pizza.
---
A "Hallmark" of Eglinton
The New Yorker's in-depth feature on Hallmark Christmas movies, which are largely made in Canada, includes a few quotes from Ron Oliver, who has emerged as one of their most successful directors.
Oliver made his directorial debut 30 years ago in Toronto, with Prom Night III: The Last Kiss, featuring a truly strange turn from local boxing legend George Chuvalo.
But before that, he was best known as the very first "on-screen" host at the fledgling Canadian kids network, YTV. Oliver started hosting YTV Hits in 1988, before becoming a correspondent for YTV Rocks and Rock'N'Talk, co-hosted by Laurie Hibberd. Later came a compilation series of his best bits, Oliver's Twist.
Here he is pestering random people, underground at Yonge and Eglinton, about the old western TV series, Bonanza. The times have totally changed, but the TTC station looks pretty much the same:
---
It's the last call at Jingles
Jingles, the once red-hot lounge opened by legendary Toronto maestro Tommy Ambrose in 1977, will be pouring its last pint and playing its last jazz standard at 1378 Yonge on December 21. The bar was a popular local showbiz hangout, thanks largely to clientele from its former neighbour across the street, CHUM Radio.
But this was the second location of Jingles. The first one was at Church and Wellesley—which was better known at the time as a neighbourhood for media facilities. As the street became the city's Gay Village, a new occupant reopened the bar as Woody's.
Ambrose posed outside his original watering hole for the cover of his 1978 album, Sweet Times:
---
Breaking news from Leon's
December 1979 was when Leon's Furniture opened a Scarborough superstore. But the era before "Ho-ho-hold the payments" looked more like a broadcast of Ontario News Now:
---
With interesting people there's a mystery to be solved
This fall marked the 40th anniversary of TVOntario's barmy science-fiction edutainment serial Read All About It!, which was shown as part of Ontario curriculum for Grade 5 reading and writing up until the early 1990s, and almost daily on TVO:
Created by Clive Endersby, and directed by Jeremy Pollock, Read All About It! mixed spooky low-budget scares with proper lessons which were collected in teacher's manuals—and photocopied to review in class after the show:
Two of the series lead actors showed up in a TTC commercial for student discount cards a few years later, while its star David Collard went on to write for Family Guy.
---
Like a galaxy far, far away
Fans might already be lining up for Star Wars: Episode IX—The Rise of Skywalker, in multiple kitted-out theatres in Toronto and beyond.
But there's a whole generation that happily recalls seeing the original trilogy back in the '70s and '80s at the University Theatre, which shuttered soon after TIFF in 1986: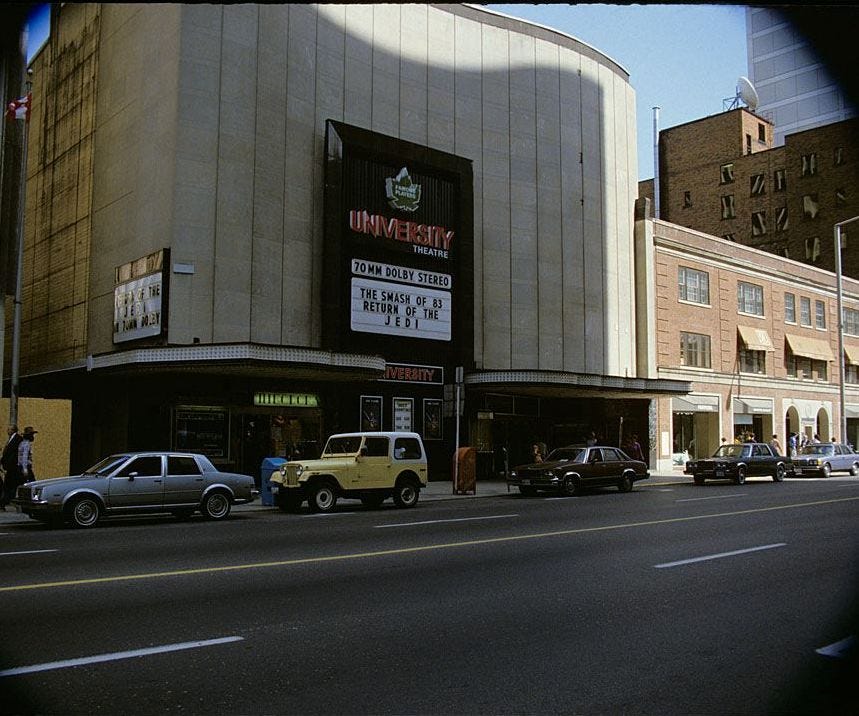 Walking past the present-day retail scene at 100 Bloor West just doesn't feel the same.
---
Retrontario's newsletter will return in 2020. Send tips, comments, and other flotsam and jetsam to @retrontario on Twitter, or ed@retrontario.com. More old newsletters you can use are in the archives,