Retrontario's 2019 holiday gift guide
From software to soft wears for retroists of all ages
This is the 21st edition of the weekly Retrontario newsletter. Subscribe now to start getting it sent directly to your inbox:
Presented for your nostalgic holiday gifting inspiration, here's a look at some interesting items that would make a perfect gift for any retro lover you know.
Wear
Relive the stale Labatt cinquante zeitgeist circa late-'70s/early-'80s, when it was all about "cutting out with me and the boys and our 50." (It's unsurprisingly available from ShopBeerGear.)
Brand Dead does a fine job of resurrecting old nostalgia-infused logos that hit the senses hard; just looking at their Bandito Video shirt will overwhelm your senses with the smell of popcorn, new office carpet and hot plastic; Their Bobo Island and WKBD 50 tees are iconic deep cuts for Windsor-area folks. Lots more great stuff is on their site.
Along with repeats on streaming service Crave, a series of new audio recordings, and two lines of exclusive soft wear, 2019 has been a massive revival year for Hamilton's most ghoulish export, The Hilarious House of Frightenstein.
The second series of officially licensed gear from Retrokid feature fan favourites Grizelda, psychedelic Wolfman, Igor—and the whole menagerie starring Billy Van, Billy Van, Billy Van, etc., etc., etc.
Of course, if you know someone who wants to revisit the series proper, without paying scalper prices on eBay for the long out-of-print DVDs—or suffer through fuzzy third-generation copies on YouTube—a subscription to Crave would go the distance.
(As we first reported in June, all 130 episodes are now available for streaming, without the copyrighted music segments.)
For people who heed a voice that keeps on calling them, this adorable Littlest Hobo design is available from RedBubble on hoodies and tees.
And we are still digging the Crossways Complex t-shirt collaboration between the always-mighty TheStoreTheStoreTheStore and Button Machine:
---
---
Read
After being out-of-print for nearly three decades, The World of the Unknown: Ghosts, a creepy cornerstone of every good school and public library in the 1980s, has been gloriously reprinted with a new forward from a fanboy: The League of Gentlemen's Reece Shearsmith. The even better news is that the other two volumes in the series, UFOs and Monsters, are due to be reprinted next year.
The Missing Millionaire: The True Story of Ambrose Small and the City Obsessed with Finding Him by Katie Daubs details the frankly bonkers story of the disappearance of Ontario theatre boss Ambrose Small, a larger than life mystery, still unsolved exactly 100 years later. (Back in 1979, CityPulse tried to unravel the mystery with its own formula-disrupting Newserial, to much dismay).
A competing Ambrose Small book was also published: Gordie Telfer's Hogtown Empire: The Dissappearance of Ambrose Small.
The Flyer Vault: 150 Years of Toronto Concert History has over 3,000 concert flyers collected by Daniel Tate, covering Toronto music history from the last century-and-a-half. Manic music professor Rob Bowman also brings his encyclopedic knowledge to the proceedings, which makes this an essential volume for any music fan from Toronto (or beyond).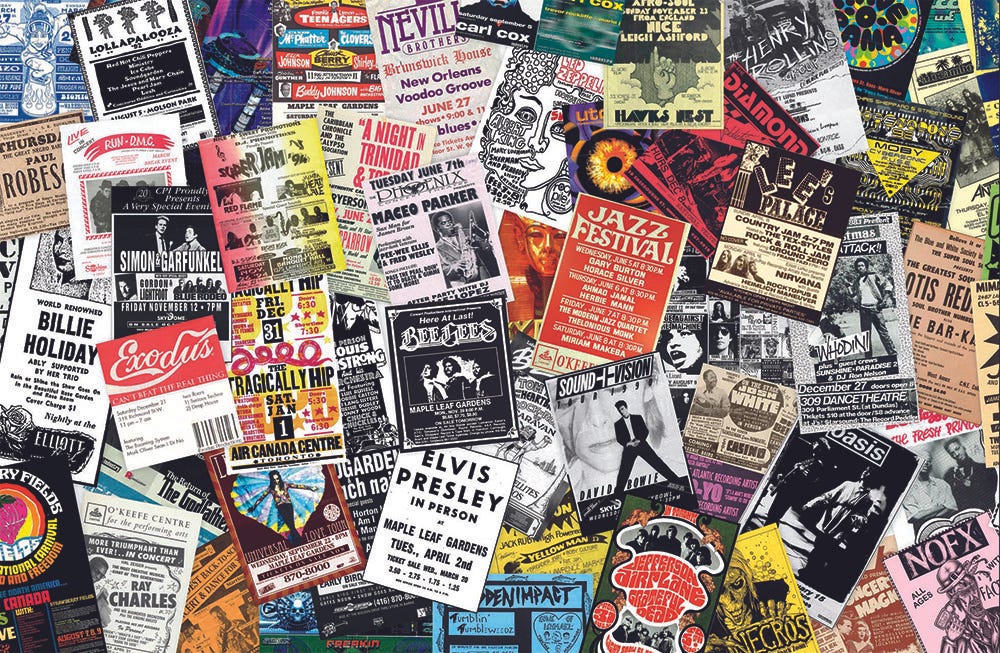 The SS Keewatin was an Edwardian passenger liner that once sailed between Port Arthur / Fort William on Lake Superior and Port McNicoll on Georgian Bay, Ontario, carrying passengers for the Canadian Pacific Railway's Great Lakes steamship service.
Now residing in Port McNicoll and operating as a museum (and sometimes production set—it once popped up in an episode of Murdoch Mysteries), the SS Keewatin cuts a fascinating narrative across modern Canadian history, from Confederation through the World Wars. The entire saga is unraveled in SS Keewatin: Steel and Steam, in both deluxe and souvenir editions.
---
Watch
Ignore the naysayers who claim that physical media is "dead." It was a bumper year for collectors of special film and television releases on DVD, Blu-ray and 4K UHD.
After many years in the movie wilderness, the 1978 shot-in-Toronto Eaton Centre bank heist flick The Silent Partner recently arrived on Blu-ray, looking as good as the day it first played in theatres.
It features a truly terrifying turn by Christopher Plummer as a psychotic cross-dressing Santa Claus, and a prime '70s chill Elliot Gould—along with a jovial John Candy in a small supporting role.
Also of note to fans of vintage Toronto-set mayhem, the fine folks at Scream Factory have unleashed The Fly Collection, a five-disc set which includes David Cronenberg's warped 1986 interpretation. With a cameo from George Chuvalo, and lots of pre-gentrified Liberty Village action, this remains a gory Toronto Polaroid worth revisiting.
The set also includes the original 1958 The Fly starring Vincent Price, The Return Of The Fly, The Curse Of The Fly, and the sequel to Cronenberg's remake, The Fly 2.
Rounding out a year of must-own releases, Scream Factory have also unleashed The Omen Collection (featuring all three original films, and the remake), a collector's edition of John Carpenter's Big Trouble in Little China (starring Muskoka's most famous holiday maker, Kurt Russell), and The Blob, a 1988 remake of the Steve McQueen original.
Game of Thrones: The Complete Collection represents a triumph of the home video format and a superior A/V experience than you could ever hope to emulate through streaming. With over 15 hours of bonus features, and the entire series served up in a literal suitcase of a collector's box, it remains the definitive physical release of the year.
While not as emotionally charged or retro-unhinged as this year's third instalment, Stranger Things 2 holds up pretty well, and its VHS-rental packaging is the imagery you want looking down at you from the shelf.
Saddle up for some '60s rubicon crossing as the 10th season of Bonanza finally arrives on DVD. Filmed in 1968 and 1969, this was when the psychedelic shifts in popular culture began to turn up on this notoriously square show.
When YTV aired the series back in the late 1980s, many episodes from this season were omitted, due to their grown-up themes:
---
---
Hear
It's hardly a revelation that Quentin Tarantino's killer movie Once Upon a Time in Hollywood has a killer soundtrack. But this one, you really gotta hear it on vinyl.
Sourced from many scratchy old off-air tape recordings of Los Angeles's legendary boss AM radio station KHJ—including some DJ shout outs from the Real Don Steele—the neon '60s nostalgia is only enhanced by the audio imperfections.
The best music documentary of the year delivers a soundtrack that may be on the overplayed side, but every serious vinyl collection needs these tracks, so Hitsville: The Making of Motown is as good a place to start as any…
Three records encompass all five series of Peaky Blinders. It's the perfect soundtrack for strutting down King Street in a hooligan snap cap, looking for a rumble.
---
Gear
Since most things are watched on phones now, why not get a retro TV case to signify the original signal? The "Retro TV bluetooth speaker mobile phone holder" is available from Summret for a very nostalgic price.
---
Send tips, comments, and other flotsam and jetsam to @retrontario on Twitter, or ed@retrontario.com. More old newsletters you can use are in the archives.