That time TVOntario told us a story
And more old news you can use
Tell Me a Story was a short-form educational series that TVOntario produced for kindergarteners in 1975, featuring hosts Dennis Lee (of Alligator Pie fame) and Susanna Friesen mellowly telling… a… story. The slightly psychedelic intro and dreamy theme song invited comparison to TVO's other homegrown mind-bending animated title sequence to Magic Shadows, which credited animator Herbert Klynn and composer Harry Forbes.
---
When the Raptors were really "EVERYWHERE"
Citytv showed the inaugural season of Toronto NBA games, preceded by a trademark Mark Dailey vocal-depth charge, plus name-checking the Raptors alongside the Moses Znaimer-era tenets: "News•Movies•Music." It seems hard to fathom today, but ratings didn't follow. So, the Raptors only aired on Chum's rebranded Barrie station, "The New VR."
---
Reporter tastes some bug powder dust
Before becoming a host of the incendiary The New Music in 1985, gonzo pop-culture journalist Daniel Richler had a stint reporting for City Limits, Citytv's overnight dry run for MuchMusic. Here's a clip that we recently discovered of Richler covering a beat poetry show in Toronto circa 1983, at which he locked horns with William S. Burroughs:
---
UFO researcher Stanton Friedman, 84, died in Toronto on May 13. Aside from being a leader in the field of extra-terrestrial research—he was the original civilian who investigated the Roswell incident—Friedman was a regular guest on the local Citytv series The Shulman File, a shouty show which deserves credit as being the first attack TV series, where the guests were encouraged to loudly disagree.
---
Silver anniversary of the SkyDome Trek
May 24, 1994 marked the final episode of Star Trek: The Next Generation, for which a raucous crowd of 40,000 Klingons, Ferengi beer-drinkers, casual fans and Starfleet nerds rubbed shoulders to see out the series on the JumboTron—then the largest TV screen in the world. Who could ever forget this sight of Electric Circus host Monika Deol cosplaying in the groovy threads of counsellor Deanna Troi?
---
Looking for Foxy Lady
Retrontario is seeking Ivan Reitman's feature directorial debut, co-starring Eugene Levy and Andrea Martin. Rumours abound that Reitman had all of the prints destroyed, but it aired on TV in the late-'70s/early-'80s. If you know where to find a copy of Foxy Lady, in any format, then please get in touch with us.
---
Can't stop the nostalgic waterfall
Like a fine wine, memories of the first decade of Canada's Wonderland continue to age beautifully. Due to overwhelming demand, Retrontario will be featuring photos and videos from the the theme park all summer long—with new posts every Saturday on our Instagram.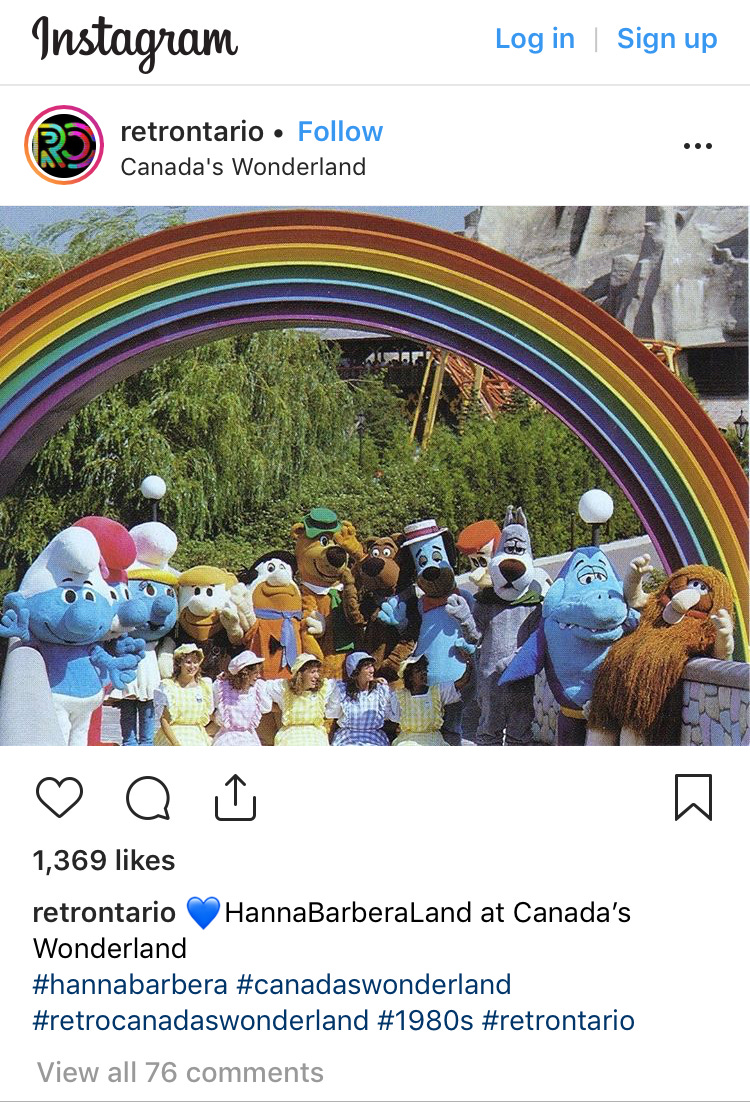 ---
Subscribe to get the next weekly newsletter from Retrontario in your inbox.