When disco death stalked Toronto
The fuse was lit 40 years ago this week
Get more Retrontario in your inbox every Monday by subscribing to this newsletter.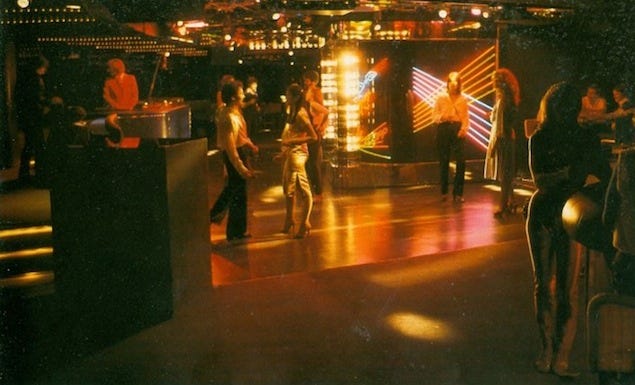 We've just passed the 40th anniversary of Disco Demolition Night in Chicago, when haters destroyed thousands of disco records at the urging of anti-disco shock jock Steve Dahl. And it didn't take long for the antipathy to spread to Toronto. Local discos like Checkers and Heaven were soon ghost towns, while the CN Tower's recently opened Sparkles ("The Highest Nightclub in the World") quickly pivoted from disco to a less-thumping top 40.
1050 CHUM was among the frequencies that dumped the genre by the fall of 1979. But check out any pop radio station today, and you'll discover that disco had the last laugh.
---
Gross out at Rogers Media
Longtime sportscaster Peter Gross was reportedly let go from Toronto's 680 News last week. Gross was famously discovered by Moses Znaimer in the early days of Citytv (when it was Channel 79), and became just as well known for his colourful CityPulse kicker commentaries on social issues as much as his hearty sports coverage. Here he is reporting on McHappy Day in 1984, in a segment for "The World According to Gross":
---
Want more Retrontario? Help grow this newsletter by forwarding it to a friend. And if you're not getting it sent to you every Monday afternoon, subscribe for yourself:
---
Remembering a truly magic shadow
It's been eight years since the death of Toronto's happiest movie host, Elwy Yost. But other than a donation to UCLA of his huge body of interviews with classic Hollywood icons gleaned from Saturday Night at the Movies and Magic Shadows—at his son's behest—TVOntario has done little to celebrate the man who helped shape Toronto's love of film. We hope that his legacy will be a larger part of TVO's 50th anniversary in 2020.
---
Stolen sunshine never goes dark
Ever feel like you're not sure if the song Steal My Sunshine by Len ever really existed or if you made it up
July 22, 1999 was when Len's "Steal My Sunshine" was released as a standalone single, although it was already gaining airplay due to the Go movie soundtrack and the Toronto band's album, You Can't Stop the Bum Rush.
Based entirely around a disco hook by Andrea True Connection's "More, More, More" (a fact that's rarely mentioned in retrospectives) and obviously modelled after Human League's "Don't You Want Me," it set the unsurpassed standard for Canadian one-hit wonders:
---
Screamin' with Jeanne
Blues shaman Screamin' Jay Hawkins died in 2000—but this July 18 marks 90 years since his birth. We found a short interview that he gave Jeanne Beker, at Club Blue Note in July 1984. (The clip is introduced by CityPulse entertainment reporter John Burgess—does anyone know what happened to him?)
---
Boxing Space: 1999
Classic U.K. sci-fi series Space: 1999, which first aired in Ontario in 1975 on Hamilton's CHCH-TV (and later on CKVR Barrie and YTV) returns this week in a stunning collection. The box set features over 40 hours of remastered episodes and bonus features, on Blu-ray and DVD. (At the time, local critics unfavourably compared it to CTV's The Starlost—whose archives remain lost in a black hole.)
---
25 years of a taste never caught
Roberto Alomar's unforgettable McCain punch commercial, featuring his zestful delivery of "Catch the Taste!," aired for the last time in July 1994. The phrase has remained a cornerstone quotable ever since. For a time, the Toronto Blue Jays legend even hawked these t-shirts on his now 404'd website:
You can watch the original 1993 commercials on our YouTube channel in both English and French versions on our YouTube channel. You can't taste much of a difference, but a later edit to the spot excised Alomar enthusiastically saying, "The one with McCain punch!"
---
Get tomorrow's media news at 12:36. Toronto's lunchtime tabloid newsletter stays on top of pop culture and digital trends. Sign up to digest 12:36 every weekday afternoon:
---
A voice grown on Retrontario
Sebastian Bach is among the followers of @retrontario on Instagram: he identified his ex-bandmate from Kid Wikkid on a bumper we posted from Citytv's Late Great Movies. The former Skid Row vocalist shared his emotional encounter with actors he grew up watching: