Yes, we got fun!
40 years of Channel 47, Cable 4
This is the 11th edition of the weekly Retrontario newsletter. Subscribe now to start getting it sent directly to your inbox: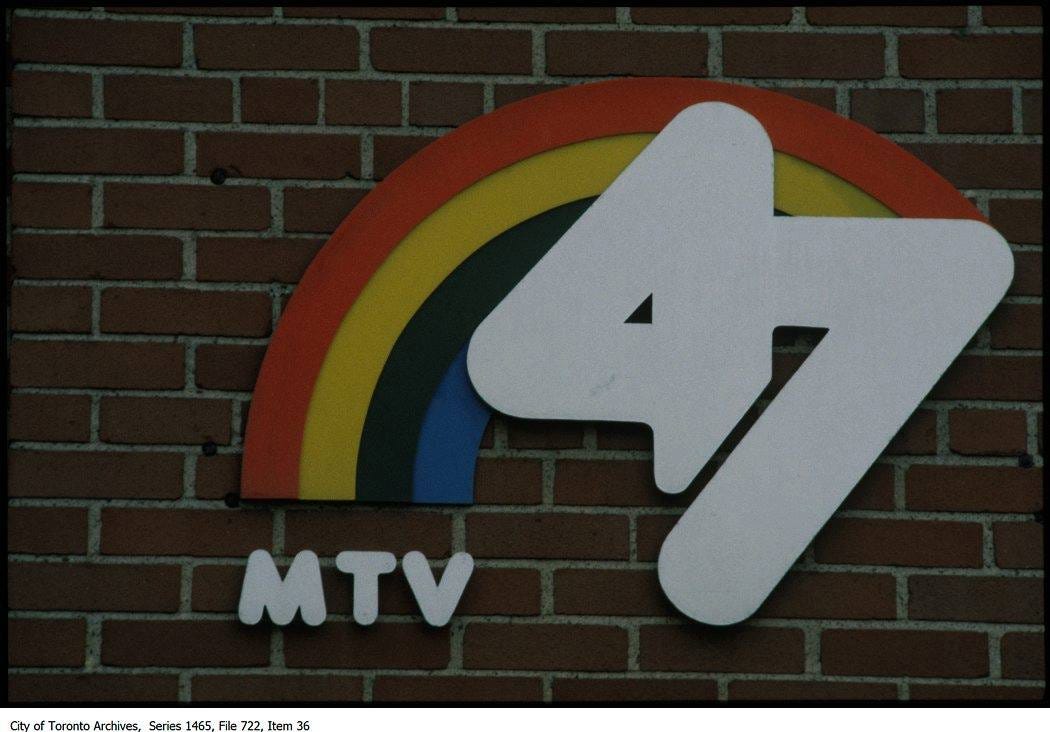 September 3, 1979 was when CFMT invaded Toronto's airwaves with a series of prodigious televisual firsts, from multilingual programming to all-night surrealism, from dedicated music video shows to soccer in stereo. This double-sized Retrontario newsletter is dedicated to it.
---
MTV Broadcasting System
CFMT ("Canada's First Multilingual Television") signed on as an evolution of the work that CFMT president Dan Iannuzzi started with Moses Znaimer on Citytv's Channel 79 in 1972. Iannuzzi was founder of the Italian-Canadian newspaper Corriere Canadese, and found a great deal of synergy with Znaimer's vision.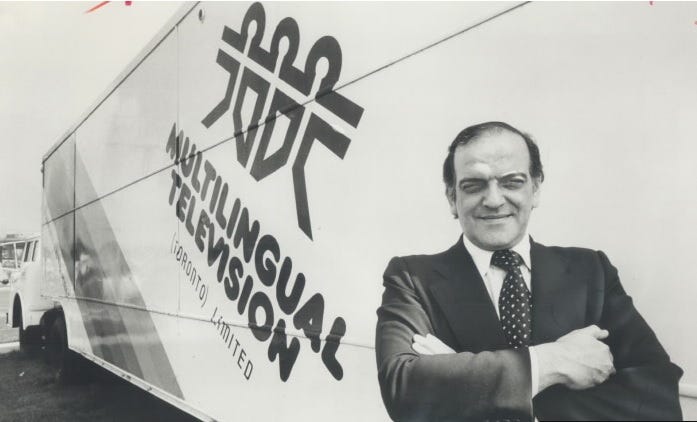 Citytv championed multilingual broadcasting from its inception. By 1978, the channel was airing many hours per week from Iannuzzi's "Multilingual Television (Toronto) Ltd." a.k.a. "MTV," so it seemed natural to spin it off into a separate channel. Iannuzzi was granted the station's licence on December 27, 1978.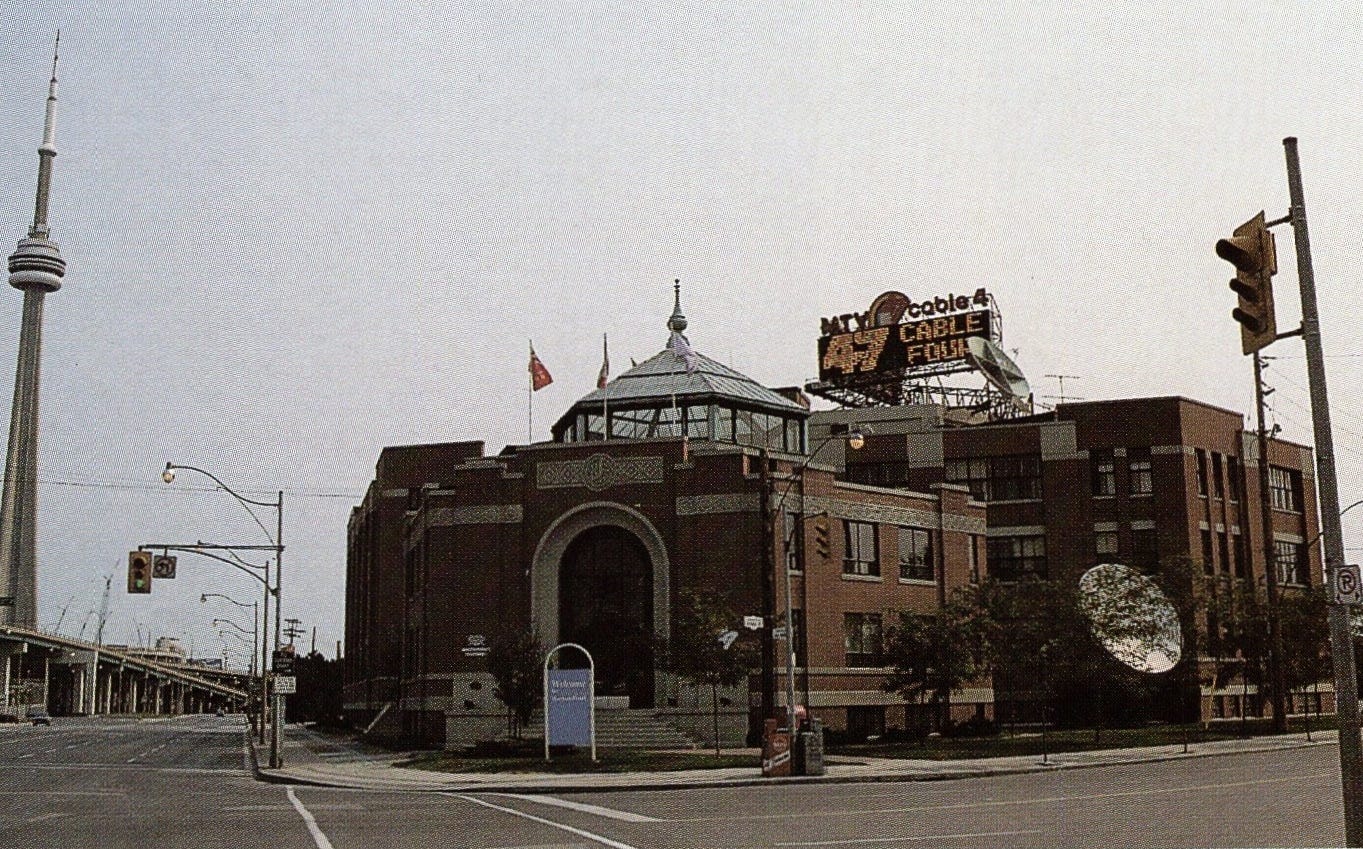 Located initially at 545 Lake Shore Boulevard West, CFMT broadcast in 15 languages, and featured three prime-time news broadcasts: in Italian, Portuguese and Cantonese. At the time, there was simply no other television service like it in the world. But it perfectly reflected the cultural diversity and linguistic range that thrived in Toronto.
With a patchwork of multilingual programming running through the day, however, getting viewers to stay tuned proved a challenge. Prominent series at the time included Italianissimo, Hello Japan, Sounds of Asia, The Greek Show, Memories of Greece, plus soap operas from Portugal, Korea and Australia.  
---
"Hey, you!"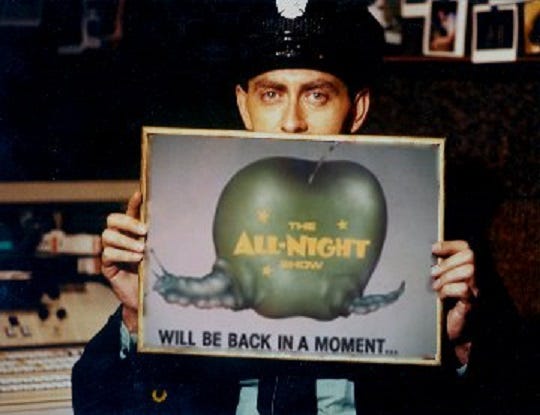 September 19, 1980 had CFMT launching The All-Night Show, still remembered as its most brazen programming stunt. Local comedian Chas Lawther appeared as "Chuck the Security Guard," a character who hijacked the airwaves with repeats of horror films, reruns like The Twilight Zone, The Outer Limits and The Prisoner, and other bits of video esoterica—including voice-over comedy from upstarts Maurice LaMarche and Jim Carrey—between surreal monologues and viewer call-ins.
The All-Night Show only ran for one year. It ended on August 29, 1981, when CFMT switched to host-less repeats of old films. Still, it left an indelible impression on the city, and elevated the cult status of CFMT. (There's an active Facebook group about the show.) After all, the channel had the first 24-hour programming in Toronto—beating Citytv to the punch by about four years.
---
Video saved the radio stars
The fall of 1980 also brought CFMT what's considered the very first all-music-video show in Toronto: Metro Music. (Citytv's mighty The New Music started the previous year, but it transitioned from airing concerts to a 60 Minutes-type journal.) The first host was Q107 DJ Kit Klassen, who was replaced by two of his colleagues, Bob Segarini and Samantha Taylor:
(More soon about what this show evolved into.)
---
Commedia sexy all'italiana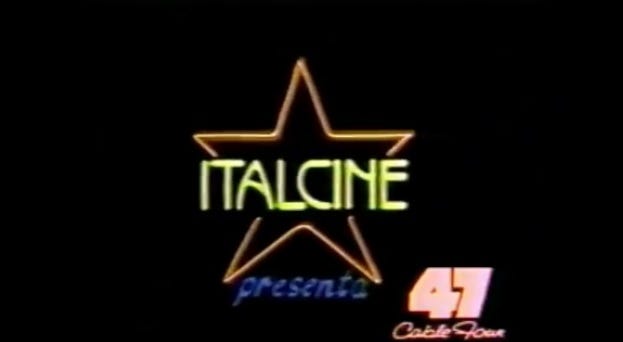 Filling the Chuck the Security Guard-sized hole in late-night cult programming, CFMT got into a little Baby Blue Movies alchemy with its own Italcine. These were "erotic coming-of-age-drama films," with just enough T&A to keep viewers up through the night—and they didn't require any promotional budget to become popular with a particular demographic. Italcine made a stealth Toronto star out of Gloria Guida:
Iannuzzi recalled getting an irate call from a truck driver's wife about Italcine, in a 1987 interview with the Toronto Star: "My husband's only home weekends and on Saturday nights I can't get him to bed before 2 in the morning," the woman said. "He's watching your station, and there's something funny going on, because he doesn't speak a word of Italian!"
---
Musical chairs after school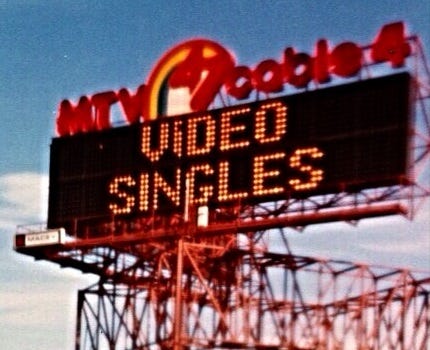 September 5, 1983 saw the debut of Video Singles with the late John Majhor, who honed his DJ style through eight years at 1050 CHUM. (Within four months, CHUM lured him back to launch Citytv's Toronto Rocks.)
Jonathan Gross, the Toronto Sun rock critic, followed as host—he'd previously been on Metro Music, and was introducing old BBC clips for its spin-off, Rockline. But he was replaced by another prior colleague, Samantha Taylor, who was Q107's music director:
That didn't last long, either: CBC wanted to get into the same act with Video Hits, and Taylor was recruited to be its first host. CFMT pivoted to Something Else, a would-be competitor to the departed VJs. It was co-hosted by Shirley McQueen and J. Gold—who reverted to his real name, Joel Goldberg, when he got a job producing Toronto Rocks (and later Electric Circus) at Citytv. While the pioneer, 47 ultimately lost at the music video game.
---
MTV by any other name
During this era, CFMT stopped referring to itself as "MTV," due to the rise of the American music channel. Here's an extremely confusing episode of Video Singles, where host Jonathan Gross discusses the popularity of MTV in the U.S., and screens a few of its early logos:
---
Stereo sounds of a Blizzard
July 27, 1985 was when CFMT became the very first Canadian TV station to broadcast in stereo. World soccer had played a large part of the multicultural channel's identity, and so Toronto Blizzard matches were imagined as a draw that transcended all languages: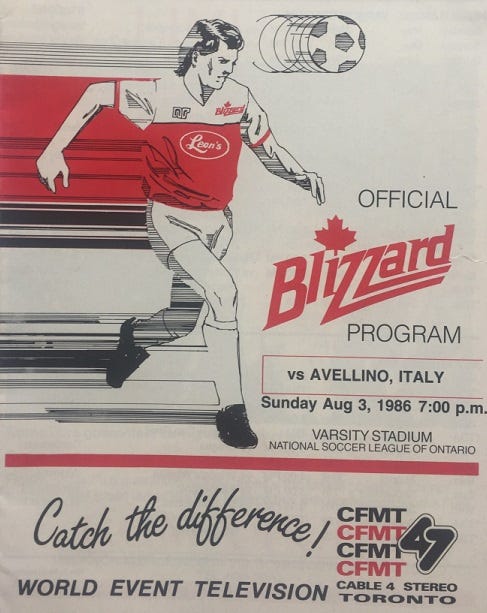 ---
Rogers saves the day
In the mid-'80s, CFMT applied for a licence to run a national news service, which the CRTC denied due to ongoing financial woes. Iannuzzi lobbied Ted Rogers to step in and prevent the station's liquidation. That deal was approved on June 19, 1986, and a slicker Rogers-style look for Channel 47 started taking shape:
---
Channel 47, Cable "FUN"
As the 1990s arrived, CFMT invested heavily in station jingles: "Yes, We Got Fun," perhaps the most memorable, hawked their line-up of syndicated U.S. series like Perfect Strangers, Full House, Married… with Children and Murphy Brown, topped off with Arsenio Hall.
---
Dick Smyth's interstitial style
With more lucrative American shows, but the CRTC not allowing stations to sell all of that break time, Rogers asset 680 CFTR was leveraged for Canadian content filler. The radio newscasters notoriously eschewed lighting, makeup and editing. And no 680 personality was better suited to this forum than former CityPulse grump Dick Smyth:
CFMT later hired happier hosts to fill the slots: Lucy Zilio became synonymous with the original early evening reruns of The Simpsons. Karen Bertelsen was the local presence who wrapped around the pick-ups of Jerry Springer, David Letterman and Tom Snyder.
---
Crazy Joe's crazier legacy
From the start, commercials on CFMT represented local businesses far more than glossy national spots. This resulted in many triumphs of personality over production, which was initially validated when Crazy Joe's was parodied on SCTV as "Crazy Hy's."
Three more that reflect 47's advertising experience: Hi-Tech Car Wash in Portuguese, CBC Tailor of Greektown, and Hunt's Bakery delivering fresh from the oven to you…
---
OMNI and everything after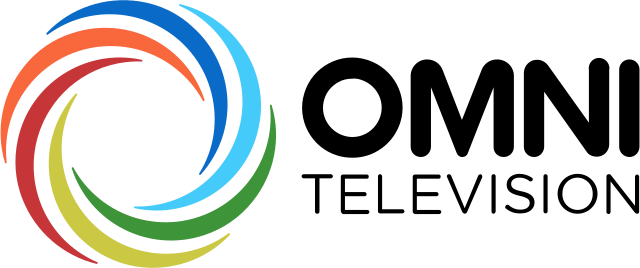 A rebranding to OMNI.1 coincided with the September 16, 2002 sign-on of OMNI.2. Rogers got a second Toronto licence, and expanded its original programming across Canada. But the concept became financially unsustainable. (Rogers recently won a controversial licence to keep Omni alive via a 19-cent monthly charge on cable bills.)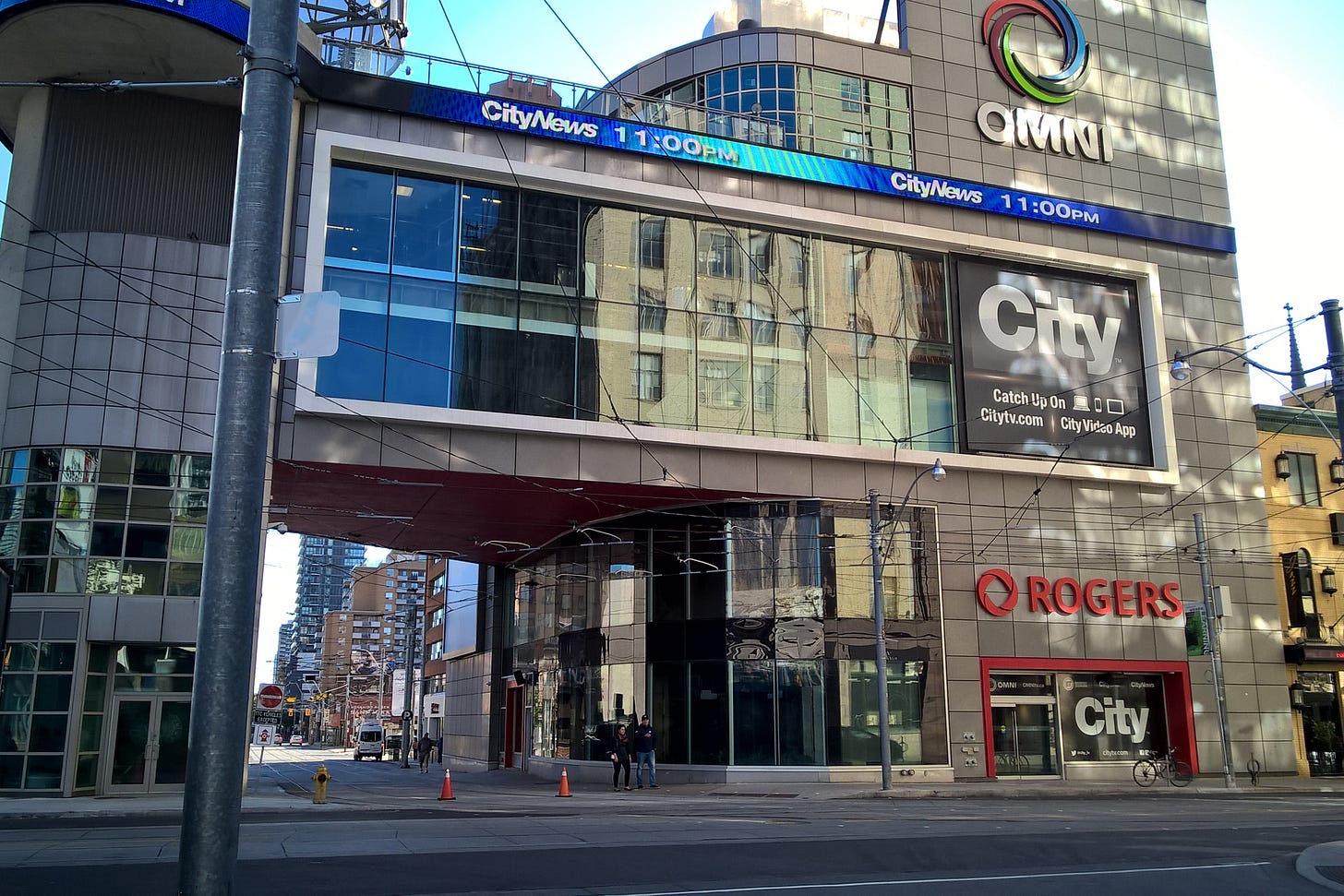 Dan Iannuzzi died on November 20, 2004; Ted Rogers died on December 2, 2008. Omni moved offices in 2009, to share Yonge-Dundas Square with another Rogers acquisition, Citytv.
The Revolution will be televised.

 Check out 

the newsletter archives

 for another recent Retrontario flashback special: