You can sit with Degrassi kids at this lunch
Broomheads, Narbos, Lunchbags and Dozers welcome
Forget all that Woodstock 50 stuff. This year's most electrifying flashback festival will celebrate Toronto's most notorious school.
Degrassi Palooza is happening this weekend (June 14-16) with appearances from the cast and crew of Degrassi Junior High and Degrassi High, including the actors who played Joey Jeremiah, Stephanie Kaye, Archie "Snake" Simpson, Caitlin Ryan, Yick Yu, Mr. Raditch, B.L.T. Thomas and Christine "Spike" Nelson—and others introduced between 1987 and 1992.
Screened as part of Ontario curriculum, with global syndication via Boston PBS station WGBH, these five years of Degrassi remain a portrait of fashion and grace via Leslieville. The franchise returned for some 21st century teen strife, but its apex arrived when the School's Out reunion movie dropped the CBC's first scripted F-bomb. (And yes, Tessa Campanelli will be appearing at Degrassi Palooza, too.)
---
Dr. John's past time in our place
New Orleans legend Mac "Dr. John" Rebennack died at 77 on June 6, leaving a musical legacy that involved an SCTV parody, Polynesiantown. Less remembered is the Popeyes campaign he voiced circa 1985, when the chicken chain had two locations in Toronto:
---
30 years of suckers on his sacroiliac
Public Enemy's Chuck D may have referred to summer 1989 as just a number, but it was the season that put Scarborough hip-hop godfather Wes Williams on the map.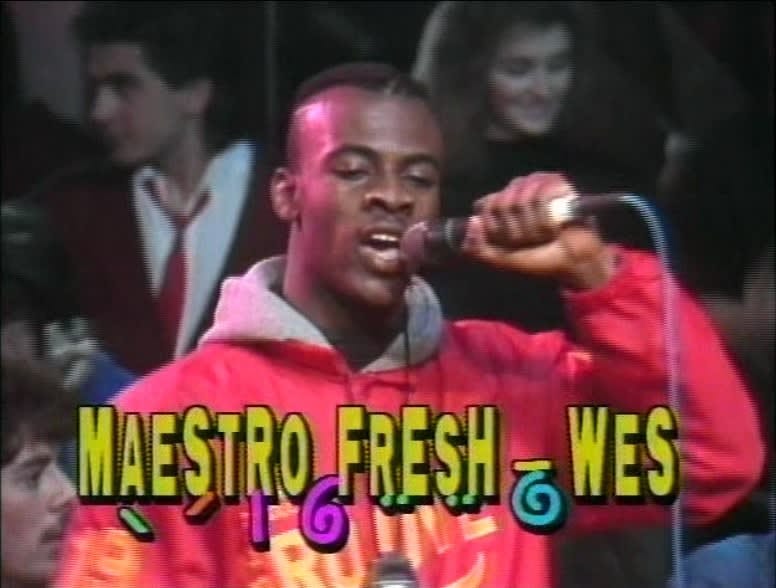 Thanks to a chance appearance on Citytv's Electric Circus one Saturday afternoon, Maestro Fresh-Wes came to the attention of singer Stevie B's record label, which released his album, Symphony in Effect. "Let Your Backbone Slide," with a prominent sample from the Mohawks, soundtracked the summer—even though its initial airplay was limited to campus radio. Later that year, a video directed by Joel Goldberg debuted on MuchMusic.
---
Want to order Toronto's News Burrito? Canadian media, pop culture and politics get covered daily at 12:36. If you're not subscribed to that newsletter yet, sign up here:
---
There once was a box named Blue
As stories about the futility of Toronto's recycling program continue to creep, it's worth noting that summer 1989 is also when the city extolled for its "Feed Blue" campaign to promote blue boxes. The brainchild of local activist Jack McGinnis, the box was likened to a hungry dog who just wanted to be fed.
---
The Silent Partner can finally be bought on Blu-ray. Filmed in the early days of the Toronto Eaton Centre, among other locations, the 1978 Canuxploitation thriller stars Elliott Gould and Susannah York—with a vicious turn by Christopher Plummer as a homicidal Santa. (Baby-faced John Candy also turns up.)
---
Bell Media is out of Space
Two of the specialty channels whose launches were overseen by Moses Znaimer will be rebranded in beige on September 12. Space, which was originally identified as "The Imagination Station," will become CTV Sci-Fi. Bravo, which longer ago lost the slogan "NewStyleArtsChannel," along with losing its exclamation point, will become CTV Drama.
---
R.I.P. actress Nonnie Griffin, 85
She died on June 7, less than two weeks before the debut of her new one-woman show.
After getting her start at the Red Barn Theatre in Jackson's Point, Griffin appeared on Canadian TV classics like Bizarre, Check it Out! and The Littlest Hobo (see clip above) and did cartoon voice work for Care Bears, The Raccoons and Ewoks. Plus, she was a popular 1970s host of TVOntario's Polka Dot Door. (The Canadian Encyclopedia notes that Griffin was the great-granddaughter of Canadian Northern Railway builder Sir William Mackenzie.)
---
Eternal lunchtime of this Channel 9
In honour of this special midday Retrontario newsletter, an homage to the noon-hour transmissions of CTV Toronto, which broadcasts today on Channel 8. For kids who went home for lunch in the 1980s, there was only one option: The Flintstones on CFTO. As the decade wore on, Just Like Mom replaced Definition at 12:30. (You could turn the dial to Hamilton's CHCH, for animated Spider-Man.)
Back then, the "Channel 9—in Toronto, Cable 8" lunch was also served with Libby's Zoodles:
---
Get more Retrontario by following on YouTube or Instagram or Twitter. And if somebody forwarded the email to you, push this button: