Elmer's safety flag flies again
Where are our classic mascots in the era of Vision Zero?
Safety mascot Elmer the Elephant was created in 1947 by Bas Mason of the Toronto Telegram and police inspector Vernon Page. Toronto mayor Robert Hood Saunders invited them to create a character who could help children learn about the basics of road safety. The animal was chosen because "elephants never forget."
Elmer was later redesigned by Canadian cartoonist Charles Thorson, who worked at Disney—and went on to create Bugs Bunny.
Schools with perfect safety records got to proudly fly the Elmer flag. But as an archival CBC short illustrates, it could be cruelly revoked with just one accident or act of unsafe behaviour. The power of communal pride or shame ran deep in Ontario's schools thanks to Elmer's presence on the flagpole.
Elmer was such a mindful motivator that instances of children involved in traffic accidents dropped 44 per cent in the years following his arrival in Toronto. The popularity of the program grew to the point that the Toronto Telegram, original owners of the intellectual property, transferred all ownership to the Ontario Safety League— and later, the Canadian Safety Council.
Sadly, the currency of Elmer began to fade in the early 2000s and most schools abandoned the program due to "changing priorities" (i.e. having to foot the bill themselves) although it lived on via a dedicated web page for kids and a redesigned millennial Elmer.
But the elephant is stomping back into view.
Toronto Police community school liaison officer Peter De Quintal (a.k.a. @StarWarsCop) is championing the return of the Elmer flag to schools by teaming up with the Canadian Automobile Association of South Central Ontario:
In the age of "Vision Zero 2.0" from current mayor John Tory, this proactive approach to road safety should be applauded. In a city where six people are hit by cars every single day, every little bit counts.
---
A warning to the living!
In the early 1960s, Toronto police cars would fly black flags every time there was a traffic fatality in Toronto. The program was coordinated with 1050 CHUM, whose cruisers also flew the flags. The radio station also aired these spooky PSAs to remind listeners the intent of the dark ensign:
"Remember, when you see the black flag, it's not a tribute to the dead, but a warning to the living!"
Audio courtesy of the CHUM Tribute site
---
Enter Blinky
As a response to the somewhat grim nature of the black flag program, and the need for Elmer to have a cohort, Toronto police sergeant Roy Wilson approached CHUM in the late 1960s to sponsor his new creation: a humanized Police car which could teach children of all ages about road safety without scaring them too much.
The vehicle was christened Blinky, thus named because after imparting safety lessons he would wink, if not blink.
Based on Wilson's sketches, a standard-issue Metro Police Plymouth Fury was modified to incorporate two large eyes and a long nose. The legend was born: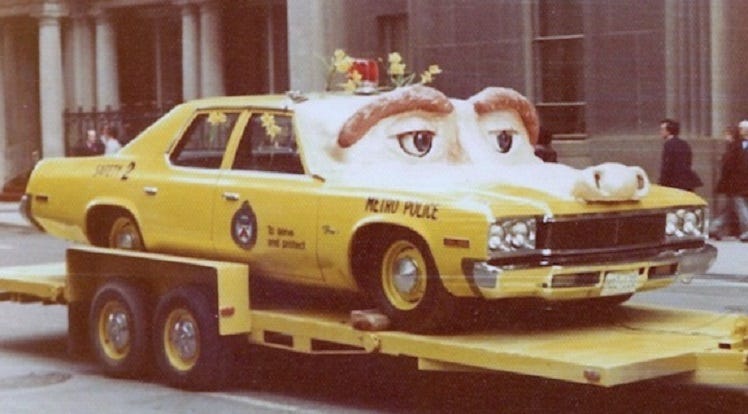 ---
Blinky's world
Blinky's eyes moved back and forth, and blinked through an adaptation of the regular windshield wiper system. The car was operated by a safety officer in a booth located nearby and linked with cables laid neatly across the floor.
As the front windscreen was covered, and visibility completely obscured by his "mask," Blinky could not be driven on roads (also, he didn't have an engine) and therefore was either towed around or remained stationary during his many visits to schools, shopping malls—and, most memorably, the annual appearances in the Toronto Santa Claus Parade.
Elmer now had a special friend to march with:
Blinky fever swept Toronto by the mid 1970s. Irwin Toys and Tonka engaged in a bidding war to win what they viewed as the super lucrative Blinky license allowing them to mass produce toys, t-shirts, and collectibles. (But the offers were rejected by the police commission.)
---
Blinky: The Movie
In 1975, the Toronto Star spent $23,500 as a public service to create 10-minute animated shorts. Blinky: Traffic Safety was shown in on 16mm film in schools across the GTA and aired numerous times on CFTO's police-friendly Uncle Bobby Show, where Blinky was a regular studio guest.
Watched by over 100,000 Toronto students in the late-'70s and early-'80s, it featured Len Carlson (best known as Bert Raccoon in CBC's The Raccoons) as the voice of Blinky.
---
Blood flows red for Grade 8s
When visiting schools to discuss road safety, Blinky's modus operandi would change radically, depending which grade he was speaking at.
So, while kindergarteners might be treated to Blinky singing a song or reciting a poem about pedestrian safety, eighth graders were treated to a frightening demonstration of Blinky slowly backing over a doll filled with red paint, graphically illustrating the end result of what happens to children who don't properly observe their surroundings: red asphalt.
In the late-'80s, when the entire fleet of Toronto Police cars were repainted and rebranded, the original yellow Plymouth model was retired—donated to the Toronto Shrine, in fact—and Blinky was reborn as a white Ford. Blinky continued to attend the Parade and the other events, but as the 1990s gave way to the 2000s time began to take its toll on Blinky.
By 2005, Blinky was in a sorry semi-retired state: the speaker system had been removed, taking away his voice, and the blinking system had mostly broken down. It resulted in one malfunctioning eye, which prompted many to wonder what had happened to the former spritely and chatty automobile.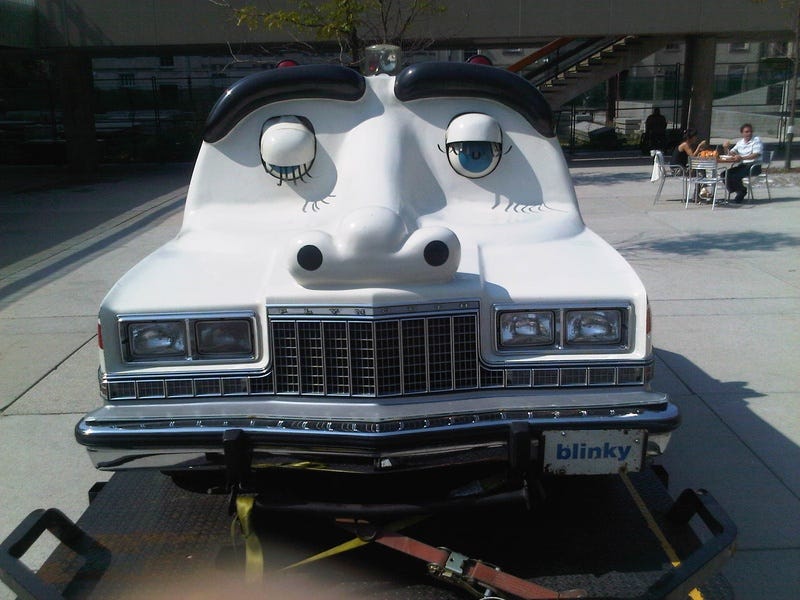 Blinky still turns up for the annual Santa Claus Parade, and can be seen at a variety of School fairs in the fall and spring (although out of context; parents know who he is, kids no longer do). He's rumoured to "live" in Liberty Village, where the Toronto Police Traffic Services HQ is located, on Hanna Avenue.
Officer De Quintal cites his encounter with Blinky at age 5 as an inspiration, and hopes that one day Blinky might return to more active duty.
Does Blinky, much like Elmer, deserve a comeback in 2020?
---
Send tips, comments, and other flotsam and jetsam to @retrontario on Twitter, or ed@retrontario.com. More old newsletters you can use are in the archives, including the Retrontario holiday gift guide.